THere is an image of American photographer and war correspondent Lee Miller with Pablo Picasso, taken by her after the liberation of Paris in 1944. They look into each other's eyes so intimately that it feels like they're penetrating something deeply personal. Not exactly romantic – although the way his hand brushes her neck is certainly intimate – but perhaps deeply loving. With that in mind, it comes as no surprise that the image has been chosen to promote a new exhibition focusing on Miller's extraordinary life and the relationship between these two artists, which opens this week at Newlands House Gallery in Petworth, West Sussex becomes.
It captured an extraordinary moment after years of adversity and separation, her son Antony Penrose tells me. "Lee found her way to Picasso's studio on rue des Grands-Augustins and banged on the door. He opened them and almost fell backwards. And he hugged her and he kissed her and he hugged her and finally when he stepped back he looked at her and he said, 'It's amazing. The first Allied soldier I should see is a woman. She is you.'"
Miller and Picasso met during a beach holiday in southern France in 1937, although their paths may have crossed earlier in the decade when she worked with Man Ray and discovered the process of solarization, for which he, not her, would end up being credited. A deep friendship developed between their two families: Miller was married to the British artist, poet and historian Roland Penrose, Picasso was with Dora Maar, then with Françoise Gilot, and they vacationed together, often in the Spaniard's various homes. Antony, born in 1947, remembers many children and animals: Picasso let a goat named Esmerelda sleep in front of his room and called out to her because she was afraid of the dark. There were long lunches of exotic food, a rarity in post-war Britain, and practical jokes too. Miller enjoyed adding trick ice cubes with frozen flies into drinks.
Penrose remembers being asked at school what he did for the holidays and astounding his classmates with his answer. "I casually said, 'Oh, we were visiting Picasso.' I had no idea this was an extraordinary thing because my parents approached it with such incredible humility. They never said, 'Look, this guy is the greatest living modern artist in the world.' He was just a person they treated with great respect and reverence."
Picasso respected Miller as an artist, Penrose says, long before anyone else. "Of course she was very beautiful. But the fact that she was highly intelligent and knew how to do things mattered to him. He knew she was a good photographer. He knew photographers because he had been with Dora Maar for six years."
Miller's beauty and background as a model meant her own considerable talent was overlooked, which didn't help that Picasso painted her six times and had long been preoccupied with his 'muses'. This became a problem when Penrose began putting together exhibitions of his mother's work. "First, I had to explain that Lee Miller was a woman when I approached people who should have known better. Then they got it and they said, "Oh yes, she was Man Ray's muse." And then I would have to dissuade her from that notion."
However, things began to change in the 1980s as feminists began to reexamine the lives of women artists, especially surrealists. As with other models-turned-artists, Miller's job made her curious about creating images. "When she was younger," says Penrose, "she was photographed by the most important photographers of the time: Edward Steichen, George Hoyningen-Hüne, people like that. Speaking to some of them later in life, they said it was like taking it as a tutorial. She would keep asking questions."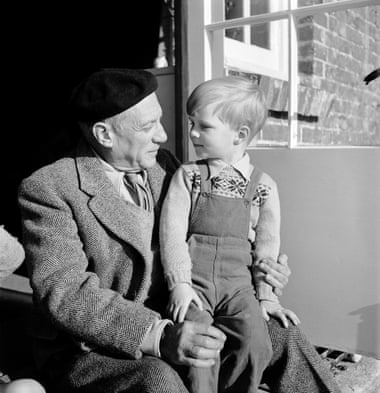 When Miller's modeling career ended abruptly — she was blacklisted after modeling for Kotex because there was a stigma around period products — she was able to jump from New York to Paris and reinvent herself as a photographer and later a war correspondent for Vogue , first documenting the Blitz, followed by the liberation of Europe. The picture of her in Hitler's bathtub, taken by fellow photographer David E. Scherman when the Führer's death was announced, shows her defiance: Penrose says she always made fun of how shabby his apartment was. The boots in front of the bath are still covered with mud from the death camps.
Miller's pictures of the 1945 liberation of Dachau—some of which are on view in the exhibition—are, Penrose explains, exercises in controlled anger. Miller was raped as a seven-year-old child. This and the accidental death of the boy she was in love with when they were teenagers shaped not only their worldview but also their work. Trauma, Penrose says, often creates a sense of disconnection. "If we look at Lee through that prism, we see that she was able to distance herself emotionally to a point. So we let them stare at the faces of the dead in concentration camps and photograph them up close. When I interviewed Scherman, I said, 'How does she do that? How is she standing there taking these pictures?' And he said she was in a frenzy."
Her war experiences reinforced what Penrose believes to be PTSD. He says Miller wasn't a great mom. Prone to alcohol abuse, like many traumatized people, she could get angry, and there was a distance between them. Miller had seen babies dying in hospital in Vienna for lack of drugs sold on the black market – and kept her son at a distance, although she was deeply concerned for his safety.
I have a feeling it must have hurt deeply, especially since Miller was able to be so warm to others. However, Penrose is magnanimous, having devoted much of his life to establishing her legacy as an artist, having served as director of the Lee Miller Archives and the Penrose Collection at his parents' former home, Farley House in Sussex, where Picasso was at his second visit stayed in 1950 to Britain. They have also hosted Man Ray, Miró, Max Ernst, Eileen Agar, Eduardo Paolozzi and Richard Hamilton over the years. There is a beautiful photograph in the show of young Penrose sitting on Picasso's knee, a look of happy complicity between them. It was during this visit that Picasso charmed the couple's Ayrshire bull, William, and inspired the 1950s print Grasshopper Bulls, which has never before been exhibited in Britain.
"I know there were hints that there was a sexual aspect to the relationship he had with her," says Maya Binkin, artistic director of Newlands House. "But I just don't think it matters. He respected her very much, enjoyed her company and valued her friendship." When I ask her what she thinks about women artists being constantly viewed in terms of their relationships with men, she is open about using Miller's friendship with Picasso to create a to win new audiences for her work – but also says that the two can hardly be separated. Miller took nearly 1,000 photographs of the artist over 40 years.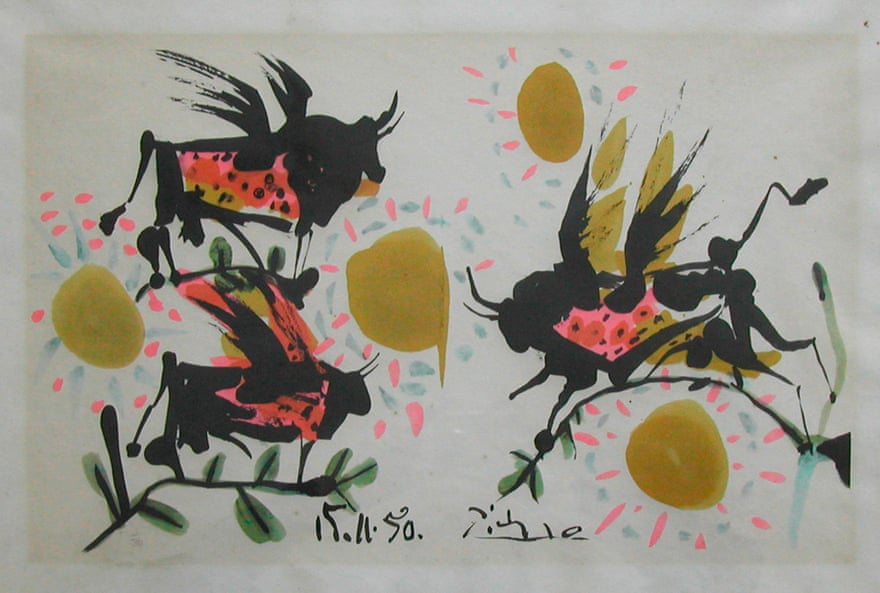 "Their relationship was extraordinary," adds Binkin. "She takes some wonderful pictures of Picasso at work and at play, but also at home and at play, which was more difficult in his later years because he was very, very aware of the camera. He knew how important it is to be photographed. She has access to Picasso in moments when he is not playing with the camera."
The #MeToo movement, Binkin notes, wasn't kind to Picasso. "Personally, I don't think we can judge him as harshly as some have done," she says. Penrose agrees. Although he sees the feminist criticism as justified in its own way, he points out that the man Picasso was a complex figure. "Of course there were times when he might not treat women well. But I don't think it's right that we should judge at this point. It's very easy to stumble upon all the bad things he did and forget that he had this incredible humanity and kindness. It's very convenient for some people to forget that because they feel it weakens their arguments about making him a monster." As for his mother, he adds, "It was a deep love. He always said it was so much better when Lee was there. He seemed to have a special affection for her. And he would be gentler when she was around."
Miller later called herself, perhaps smugly, a "Picasso widow". She had struggled all her life to make a place for herself. "First in Paris," says Penrose, "she was very happy to have her photographs published under the Man Ray name. She said: "We were so close, it was like we were the same person, so it didn't matter." Then it started to matter." But when it came to Picasso, Miller was far from bitter, and her work speaks for itself now. Getting to this place, says Penrose, "was all the way uphill. But in the end we won."